While ancient stories and legends inhabit the Old City walls; the architecture and infrastructure of the modern era Dubrovnik spreads beyond them, protected by the impressive heights of the Mount Srđ. Dubrovnik of today is the administrative center of the southernmost Croatian region, Konavle, with the population of approximately 40000 people. Although tourism is by far the most significant economic activity of the area, Dubrovnik is also a successful shipbuilding and maritime transport center.
Dubrovnik city harbor in Gruž is an important connection with the rest of the Adriatic and Mediterranean destinations. It is suitable to receive cruisers from all over the world, which makes an important part of the city tourist offer. Besides the usual ferry lines, the harbor offers a number of berths for private yachts.
You can find numerous private accommodation objects, beautiful villas and luxurious hotels in most of the city districts. Dubrovnik has the biggest number of five-star hotels compared to other Croatian cities. To mention some: Excelsior, Hilton Imperial, Bellevue, Rixos Libertas or Radisson; they are all situated close to the old city center, offering a spectacular view over the Dubrovnik archipelago and a wide range of services and activities.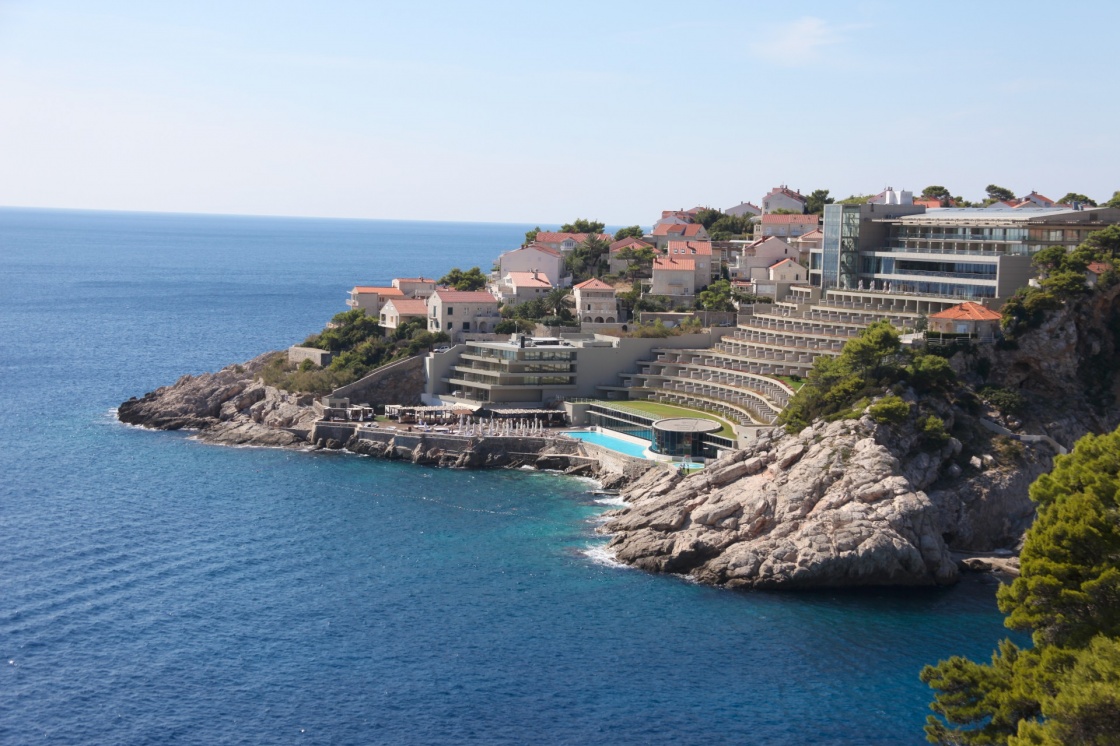 'Hotel with swimming pool in Dubrovnik on the Dalmatian coastline' - paul prescott / Shutterstock
Although most of the hotels are situated in close proximity to the public city beaches; some of the more exclusive resorts have their own beaches, all perfectly maintained and equipped with various services and activities. All of the hotel beaches are marked with the Blue Flag, the most appreciated international certification indicating the water quality and the safety of the beach.
Just a few miles away from the old city ramparts you can find a beautiful and always crowded ACI Marina. It is open all year round and capable to receive over 350 boats and even mega-yachts (length up to 60 m). The marina is situated at the mouth of the river Ombla and is a proud bearer of the Blue Flag. It is considered to be among the safest and the most beautiful ACI marinas on the Adriatic coast.
Although the Old City holds the majority of historically and culturally significant sights, modern Dubrovnik outside of the old city gates also has a lot to offer. The most impressive is Fort imperial, situated on the Srđ Hill, overlooks the city since the early 18th century. It was built during the French occupation of Dubrovnik during the Napoleon's domination; today it is the historical monument and a museum of the Croatian War for Independence. It offers a spectacular view of the Dubrovnik Riviera.